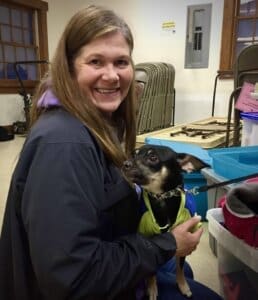 Dear Friends,
We hope you will join us on June 10th for our "Home Is Where My Dog Is" fundraising event and celebration at Paschal Winery in Talent, Oregon from 5-8 p.m. I want to take this opportunity to tell you about the important work we do and why we desperately need your help.
Our Mission & Goals: The Street Dog Project strives to improve the lives of pets of the unhoused, the no income and the low income in our community through access to spay/neuter and proper veterinary care. We are a community service public charity that works tirelessly to make a difference in the community by providing access to these services. Our efforts are making a real impact on animal suffering and overpopulation. We provide assistance to both dogs and cats, and we focus on community outreach education. Education is critical in teaching the importance of spay/neuter and proper care for pets.
Our Challenge: We face many obstacles in achieving these goals. Many of you are familiar with the national crisis of pet overpopulation. Likewise, you may know that there is a national veterinary workforce crisis, and prices for veterinary care have risen dramatically in our county. For animals living in poverty, a great majority have never seen a veterinarian and remain unaltered. This results in overpopulation, pain, suffering, and potential death. The demand for our services and the funds needed have increased dramatically due to both the higher numbers of pets in the demographic we serve and rising veterinary costs.
We Are the Only Resource: The Street Dog Project is the only resource for low cost spay/neuter for dogs in Jackson County. In addition, we are only one of a few organizations that help with access to urgent veterinary care and resources like food, gear, and vaccinations. Jackson County Animal Shelter (JCAS) does not offer programs such as food banks, low cost spay/neuter, low cost vaccinations or partnerships with social service agencies to help people with pets living in poverty. When these people call JCAS for help, or when they reach out to local social service agencies for help, they are referred to The Street Dog Project. We get numerous calls each and every day regarding critical needs for pets whose guardians are unable to care for them properly.
How You Can Help: Whatever your thoughts are about people without means or homes, the animals have no choice in their situation. You will be directly helping the animals when you donate. Please join us and be a voice for the animals, reduce overpopulation and suffering, and make a meaningful difference in our community. Come to our event, donate, sign up for our mailing list or to volunteer, and help us help the most vulnerable pets in our community.
Animals living in poverty have no choice and no voice. We appreciate your interest in our organization, and we look forward to spending an evening with you on June 10th.
With Deep Gratitude,
Laurie Cuddy
FACT SHEET
1. The biggest challenge for the veterinary industry is the widespread shortage of veterinarians. In 2020, the Mars Veterinary Health projected healthcare needs of U.S. pets by 2030 to be over 41,000 vets. With an average of 2,500 – 2,600 graduates becoming veterinarians each year, Mars predicted an estimated 15,000 veterinary shortage for U.S. animals by 2030. According to Banfield Pet Hospital, a potential shortage of this size would leave 75 million pets without veterinarian care. We are already seeing this dynamic in our community. There are fewer available vets and prices are increasing significantly.
2. One unspayed female cat and her offspring can produce over 370,000 cats in only 7 years. One unspayed female dog and her off-spring can produce 67,000 dogs in only 6 years.
3. Recent statistics from The Humane Society highlight how dire the situation is for pets in the low or no income demographic:
20 million + pets live in poverty.

 

That's 3 times more than the number who enter animal shelters every year.
70% of pets living in poverty have never seen a veterinarian.
88% of pets in underserved communities are unaltered (not spayed or neutered).
4.  According to Feeding Pets of the Homeless, 3.5 million Americans are homeless. Five to ten percent of homeless people have dogs and/or cats. In some areas of the country (including ours), the rate is as high as 24%.
5. The Oregon Governor's State of Emergency Declaration on Homelessness (Executive Order NO. 23-02), from 2017 to 2022 the Medford, Ashland/Jackson County region has seen an increase in unsheltered homelessness of 132%!
6. According to The National Alliance to End Homelessness, evidence shows that animal companionship is fortifying and contributes to the emotional well-being of people experiencing homelessness, including encouraging owners to obtain sobriety, leave abusive relationships, and avoid incarceration.  Feeding Pets of the Homeless adds that pets offer companionship, unconditional love, are non-judgmental, and can provide both warmth and protection.
7. In the last month, 3 dogs adopted out by Jackson County Animal Shelter have become Street Dog clients. We are fighting our battles from all directions.